Bricks for SFX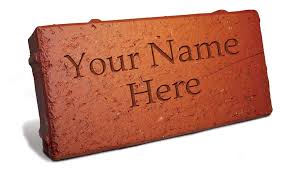 St. Francis Xavier has created a courtyard of pavers to the south of the Unity Hall entrance. Become a part of history by purchasing a personalized paver brick. The number of bricks is limited.
Take this opportunity to…
• Recognize a parishioner's life or contribution to St. Francis Xavier
• Honor a past or present student, faculty member, coach or leader
• Celebrate a Wedding or special Wedding Anniversary
• Commemorate a Baptism, First Holy Communion or Confirmation
• Remember a special SFX athlete, athletic team or scout or troop
There are so many more ideas!
Our next install date will occur either in Fall 2018 or Summer 2019, depending on number of additional orders, weather, and availability of our engraving contractor and brick installer.
LINKS TO PURCHASE BRICKS WILL BE AVAILABLE IN THIS SPACE STARTING DECEMBER 1, 2018.
QUESTIONS? Email BricksforSFX@sfxlg.org